LAURA_AkiÓ->PLAYTrucke, Brazil/Berlin, 2019
LAURA_AkiÓ->Tea_Trucke, London, U.K 2018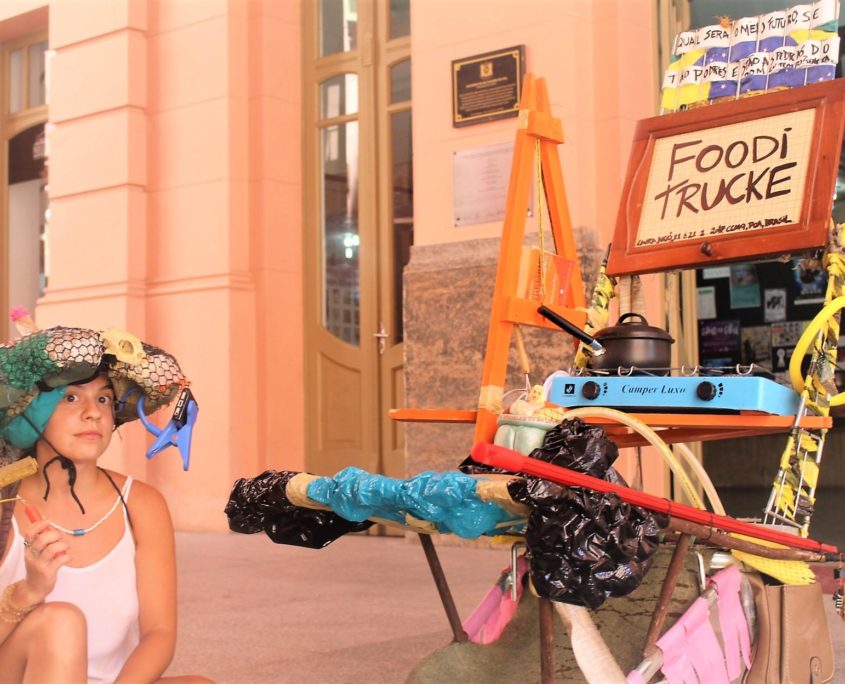 LAURA_AkiÓ->Foodi Trucke->popcorn, São Paulo/Rio de Janeiro/Rio Grande do Sul, Brazil, 2016-2017
2016-2018
Performance
___________________________________________
"LAURA _ AkiÓ-> Trucke->", is a series of performances that borns as a means of questioning the existing social structures, been the current world political and economic crisis the main point.
Inspired by the books of  The Invisible Committee and the practices of UPAC – DyoNises theater,  LAURA _ AkiÓ-> assumes her own  trans(IN)disciplinary pedagogy going beyond the mood, the playful, the non-sense, to show our catatonic life state, which according to the poet and playwright Antonin Artaud, are causes of a social disease spread by a rational logic that does not accept different ways of existence.
Seeking to give birth to a new (no)SENSE of life, where materials, concepts, methodologies, resources, techniques and terms merge, LAURA _ AkiÓ->, in her performance points to the dismemberment of the culture, and consequently of the human being that we experience nowadays.
Thanks to  the "open script", LAURA _ AkiÓ-> is able to express her political, existential and social questionings by a text performance, which not only relates but also leads to food/drink production, stimulating a engage talk with the public that become participant of the performance.
 The medium and scenario of the performance is the "trucke"- a little trolley made by the sewing and gluing of discarded materials found by the artist in the streets of the cities she is performing.
This process of finding a Trolley in the street and incorporating on it the discarded objects collected, points out how much the waste produced by a city, are imbued with cultural and historical aspects of its inhabitants. Also in this process of collecting waste to build the performance, personal relations are established – relations of exchange, friendship and also collaborations, between LAURA_AkiÓ->and the figures which compose an urban space:garbage collectors, street dwellers, street vendors, street artists, and so on.
Just like the materials that composes her "Trucke" cultural elements and social problems regarding the places she is performing are as well incorporated in her "open script", revealing  a co-production with the city habitants.
"LAURA _ AkiÓ-> foodi trucke-> popcorn", 2016-2017, had several presentations in differents cities and spaces in Brazil.
Open Script->LAURA _ AkiÓ-> Popcorn
"LAURA _ AkiÓ-> Tea_trucke->", 2018, happened during 4 days in the streets of London, supported by the Ugly Duck.
Open Script->LAURA _ AkiÓ-> Tea_trucke->
"LAURA _ AkiÓ->PLAY trucke->Brazil" 2019, happened during 2 weeks in the streets of Rio de Janeiro during the exhibition Abre Alas, Gentil Carioca, gallery.
"LAURA _ AkiÓ->PLAY trucke->Berlin" 2019, happened during different festivals and events  in Berlin, still being present in the streets of Berlin.